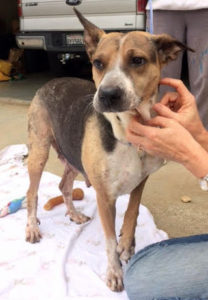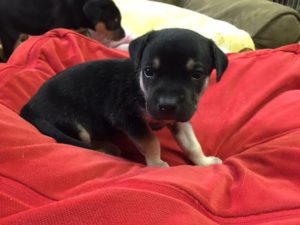 HAWAII UPDATE 2/5/17
We understand that this is a long update, but we wanted our friends and family to know Hawaii's situation and why you haven't heard much from her lately…
As you all know, Hawaii came to SPOT with 5 of her newborn puppies after being found on a property over two weeks after her owner died. She had barely survived with no food, and six of her puppies were taken by another rescue to bottle feed as she couldn't nurse 11 babies with her body in the condition it was in. Maui, one of the 5 puppies that came with her to SPOT, passed away the next day after being rushed to California Vet Specialists.
Hawaii's foster mom noticed a growth on Hawaii, and we immediately had it checked out at Fire Mountain Vet. It was a Transmissible Venereal Tumor, and within a few days, it began bleeding and pushing out of her body. We had emergency surgery to have it removed, and to have Hawaii spayed, and what Dr. Cramer could remove was sent to pathology.
Unfortunately, the diagnosis came back positive, Hawaii has cancer. She is also losing fur and was diagnosed with stress mange, I think her body is just showing signs of starvation and possibly cancer. The tumor has begun to bleed again.
So what do we do? The location of the tumor is not ideal for total removal, so we are meeting with Dr. Pru at California Veterinary Specialists this Wednesday to see what options we have. After being through so much, we want to give Hawaii the best quality of life we can.
The good news is, Hawaii has gained over 12 lbs and is getting home made food (thank you Lori Q!) in addition to the high quality puppy food donated, and is an affectionate, sweet girl who loves to play with toys in the backyard at Diane's.
One of her puppies, Oahu, had a health scare this past week as well, he stopped eating. After rushing him to the vet, and careful syringe feeding every few hours by amazing foster mom Diane for several days, it looks like he has turned the corner!
SPOT wants to thank everyone for their fundraising efforts for Hawaii, Kona and the puppies. SPOT's 'family' has not only donated money, but they have been sending food, toys, potty pads, and treats for our two litters, it has made a HUGE difference in their care and well being, and has helped tremendously offset the cost of caring for 9 puppies and their mama's.
We will keep everyone informed as we understand what lies in store for Ms. Hawaii, please keep her in your thoughts and prayers….

Help Hawaii and her babies!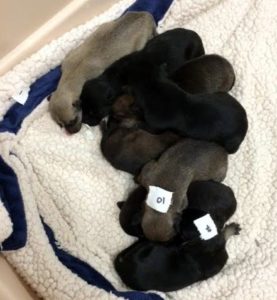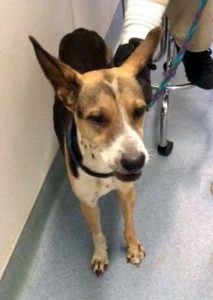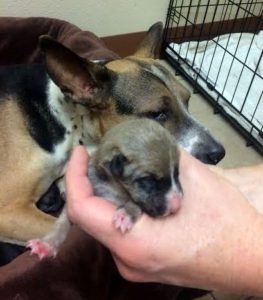 Hawaii and her little family joined SPOT yesterday. Her dad passed away unexpectedly, and friends were not aware that he had dogs on his property – more than two weeks went by before mama and another dog were found by friends, Hawaii having just given birth. Please help us welcome Hawaii and her babies Kauai, Maui, Hana, Lanai & Oahu, and their 8 month old blind puppy friend, Kona. We're sorry to say that Baby Maui crossed the Rainbow Bridge early yesterday. Thank you to everyone at Fire Mountain Vet and California Veterinary Specialists for working so hard to help Maui, we know he was loved and cared for by many during his short time on earth and is no longer suffering.
Little Kona was found with Hawaii suffering from extreme malnutrition and dehydration. He is being hospitalized at Fire Mountain Vet after having a fever and being lethargic – he is totally blind and a sweet, quiet little guy.
SPOT is fundraising to help with the extensive medical costs towards Kona, Hawaii and her babies. Can you help? If you are able to donate, enter the information below and help SPOT support this family in need.
If you have any questions regarding a donation, email us at info@spotsavespets.org and we'll get right back to you! We appreciate your support to Kona, Hawaii and her babies!