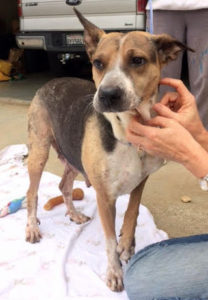 Hawaii's Story:
Hawaii and her friend Kona (who is blind) were living in San Diego down by the border. Their owner went missing and was pronounced dead. Which is sad in itself, but even sadder, no one knew about Hawaii and Kona. They were not discovered for three more weeks. So, for three weeks they were living on the property all alone with no food or water, scrounging for what they could find to stay alive. To compound this horrible matter even more, Hawaii was very pregnant. Luckily a friend discovered them and contacted animal services. They were brought in starving and emaciated. Hawaii had her pups but they were weak and she had nothing to give them. The vet at the shelter wanted to separated Hawaii from her 11 pups. Rancho Coastal took the 6 strongest pups and SPOT took momma, the 5 weaker ones and their blind friend Kona. We supplemented Hawaii's food, bottle fed the pups as well as let them nurse. They seemed to be doing as well as possible and we continued this process for a few weeks. Then one of her babies, Maui, became very weak, we took him to emergency, they gave him the best care, day and night. We thought he was turning the corner but sadly he did not make it.
After trying to heal from the loss and focusing on the remaining pups we found momma was bleeding. We rushed her to the vet. She has transmission venereal disease. This in turn leads to a tumor located in the vagina. She had surgery to remove the tumor but the vet could not get all of it as he did not want to chance damaging her urethra.
Hawaii has had such a rough life and is as sweet as can be. We saved her once and we need to try again. We met with oncologists at CVS who say this type of cancer is very treatable and curable with treatment. Her prognosis is great. We need to raise funds so that we can help. She has been through too much for this to be the end. Hoping you can help!!!! Please share this and post this so we can reach as many people as possible.
We will keep everyone informed as we understand what lies in store for Ms. Hawaii, please keep her in your thoughts and prayers….
SPOT is fundraising to help with the extensive medical costs for Hawaii. Can you help? If you are able to donate, enter the information below and help SPOT support her in this time of need.
If you have any questions regarding a donation, email us at info@spotsavespets.org and we'll get right back to you! We appreciate your support to Hawaii!

Donation for Hawaii!!