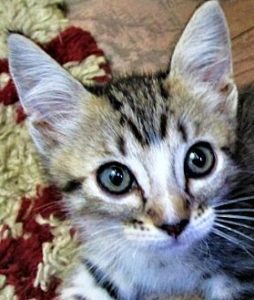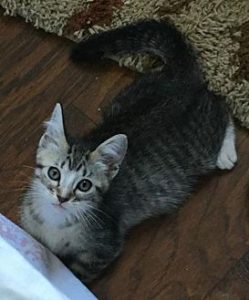 My Story:
Bareva is an adorable domestic short hair grey tabby with white female kitten and her birthday is 6-30-17. She has beautiful markings with four white socks and a white underbelly! Bareva has the best personalty ever!
She loves to play with her foster brothers, Pfister and Quintero, and she definitely holds her own with the them! Her favorite thing to do is the climb on top of our foster's Chocolate Lab and play Queen of the Mountain! She also likes to cuddle up next to the dog and go to sleep. So yes, she's great with cat-loving dogs, other cats and children, too.
Bareva is a sweet little kitten and would love to go to her forever home with you! Kittens always do better in pairs, so wont you consider adopting her with her foster sister, Morata?
As with most SPOT cats and kittens, Bareva is spayed, she's up-to-date on her vaccines, she's been dewormed, and she tested negative to FELV.
Her adoption fee is $125.00.
If you're interested in adopting Bareva, please fill out the cat adoption application by Clicking here