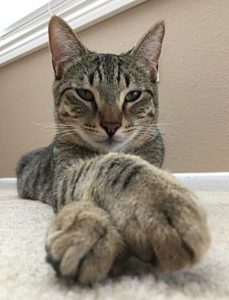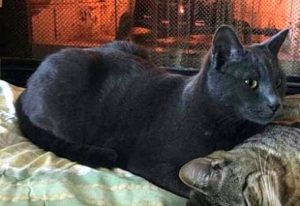 This is a courtesy posting for cats that were adopted as a kittens, Neddie and Trouble, from SPOT and now need to find a new, wonderful furrever home, together, if possible.
My name is Ned/Neddie-Pooper. I'm a very handsome domestic short hair all grey male cat, I'm 2.5 y/o and 13lbs of playfulness, curiosity and love. My birthday is 9-7-15. My hobbies enjoy sleeping, eating, rough housing with my little brother, Trouble, and staring at all the other animals through the window. I'm not afraid of water like most kitties and am even known to hop into the shower and drink warm water from my parents' hands. On cold nights I like to crawl under the blankets and snuggle with my parents. I love a clean litter box which is how I got my nickname, going potty while my parents clean it. I'm OK with kids and have met a dog or two. I would love to be adopted with my brother Trouble. We love each other!
My name is Trouble, but don't let the name fool you. I'm almost 2 years old, a very handsome domestic short hair brown tabby male cat, 12lbs of mischief and love. My birthday is 4-18-16. I'm nimble, athletic and love playing around with my older brother Neddie. I can also entertain myself by running around the house and I absolutely love straws! Sometimes I can even be coerced into playing fetch with them. I'm a little shy of new people, but warm up fairly quickly. My most favorite time of the day is when my parents come home and I wake up so happy. They pick me up in their arms and I look at them with the cutest happy/sleepy eyes in the world while purring. Then they put me down and I brush up against their legs with my body, to let them know how much I love them. I don't have any experience with dogs and limited experience with kids (as young as one week old). I would love to be adopted by parents that would play with me a lot and show me a lot of attention. Also please consider adopting me with my brother Neddie. We love each other a lot!
We are neutered, up-to-date on vaccines, and tested negative to FELV.
Single adoption fee is $50.00, if you adopt them both, the adoption fee is just $80.00.
If you're interested in adopting Neddie, Trouble or both, please fill out the cat adoption application by clicking here