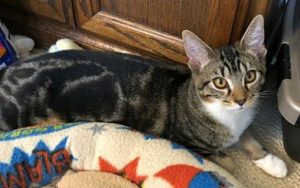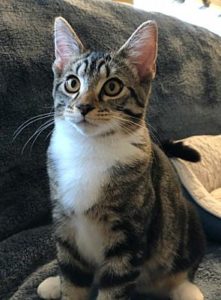 Beautiful little Helga is a domestic short hair brown tabby with white female kitten, with beautiful hazel eyes and four white paws, swirls, as well as, stripes, and her birthday is 7-7-18. She's really adorable! Helga is really sweet and talkative. Comes rushing over whenever we say hi to her. Loves to be rubbed and petted all over. She also plays with our dog. She's in a loving foster home with her two equally pretty sisters, Hazel and Heidi. Please consider adopting her with one of them. Adopting two is twice the fun and easier, too!
As with most SPOT cats and kittens, Helga is spayed, she's up-to-date on her vaccines, she's been dewormed, she tested negative to FELV, and she's micro chipped.
Her adoption fee is $125.00.
If you're interested in adopting Helga, please fill out the cat adoption application by clicking here