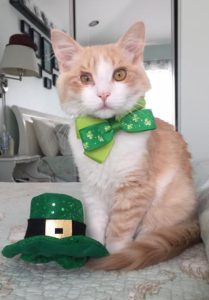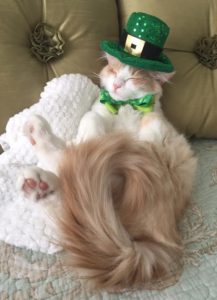 Happy St Patty's Day Ever-buddy! Thanks for shamrockin' my eye surgery fund-raiser! I wanna give you a little update. I'm still only leprechaun-sized but my vet says I'll be big enough to fix my funny eye in 3-4 weeks! Yippee! I'm feeling the luck o' the Irish for sure because he also said he could do my surgery for $1,500 instead of the original $3,000 estimate he gave me! I checked my pot o' gold and I have $515 in there so far. I'm only a few lucky rainbows away from purr-fect vision! If you have a few extra coins you wanna add to my kettle you can do so by donating below. Oh! And as the ol' Irish saying goes ~ "A penny gets another penny" ~ so PLEASE share my story on all your social media sites. I'll be posting my progress on SPOT's Facebook page, so be sure to look for updates, thank you messages and pictures of my sweet silly self. Until then, may your days be filled with all the fortunes of a four- leaf clover: faith, hope, love and luck.
Kitten kisses fur-ever, Treston
A donation for Treston!
About Treston:
Treston needs reconstructive eyelid surgery to correct his condition. This surgery ensures complete resolution and will saves his eye. SPOT is looking to our friends, family and supporters to help raise the funds. Please share his link, promote him on your social media platforms, and donate if you're able. Remember, donations are tax deductible and every dollar counts and some corporations will even match funds. As always, we thank you. We'd never be able to save so many precious lives without good people like you.