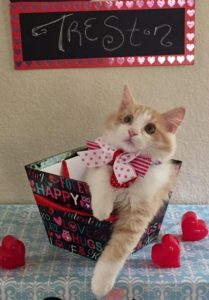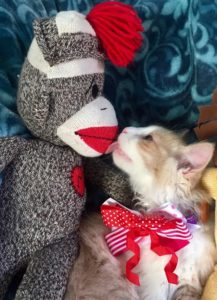 Happy Valentine's Day Ever-buddy! My name is Treston, the kitten. You may have seen me on Facebook, and maybe you already know about my bad eye. It needs to be fixed with surgery or I'll eventually lose it. That would be sad!
Here's the part where I could use a little help from my friends. You see, this surgery I need is gonna cost a lotta money. The fancy veterinarians need to build me brand new eyelids, and that's not cheap.
I was wondering if you could help SPOT raise the funds? I'm good at saying thank you, and I would appreciate it SO much! You can donate to by clicking the link below.
Luv ya fur-ever! Xoxo,
Treston
A donation for Treston!
About Treston:
Treston needs reconstructive eyelid surgery to correct his condition. This surgery ensures complete resolution and will saves his eye. SPOT is looking to our friends, family and supporters to help raise the funds. Please share his link, promote him on your social media platforms, and donate if you're able. Remember, donations are tax deductible and every dollar counts and some corporations will even match funds. As always, we thank you. We'd never be able to save so many precious lives without good people like you.