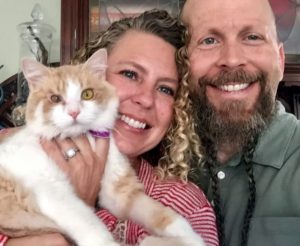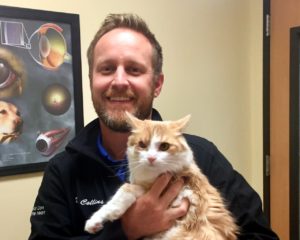 Hey Every-Buddy,
Guess what?!? I found my fur-ever home and it is PURR-fect! I've gone to live with my new mommy, Carolyn and my new doggie sister, Blossom. I have lots of room to run and play, and there are so many windows to watch the birds and butterflies from. I can even see the ocean! It's way cool!
I want to thank my Foster Mama and Papa for taking such good care of me, for loving me with all their hearts, and for helping me along my long journey to wellness. I also want to thank my Foster Grandma and Grandpa who babysat me and spoiled me with tons of toys. I will never forget you!
I super-duper appreciate all the nice Hoomans who donated to my surgery fund. We couldn't have done this without you. And thank you SPOT for not giving up on me! I also want to express my gratitude to Dr. Haver at Surfside Animal Hospital, and Dr. Collins at California Veterinary Specialists.
It took a village to save my 'funny eye', and I will forever be grateful to those who made it happen. I love you all very, very much.
Xoxo,
Treston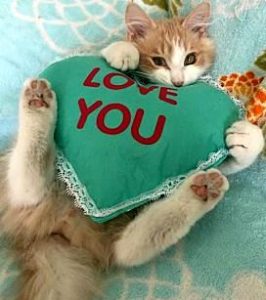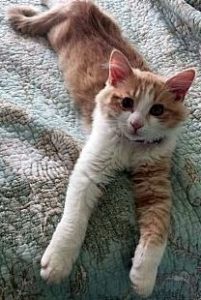 Hi, I'm Treston!!! I'm super excited because – after a very long wait – I am finally ready for my fur-ever home! I'm a sweet, fluffy boy with TONS of love to give and LOTS of amusing, bouncy, puppy-like energy to brighten your day. I'm also quite the comedian. I will keep you laughing with all my silly antics! I'm excellent at playing fetch and I dig a good game of hide-n-go seek. When I'm done, I find my bliss sitting in laps while nursing my baby blanket. (Yup, I still do that!). I love to follow people around like a little doggy and I enjoy being carried like a baby, too. But don't worry: if your arms get tired I'm great at walking on a harness and leash. Oh, and I absolutely ADORE other animals!!! My new home needs to have a buddy or two for me to run, wrestle and play with. I also need special people who will cherish my special self. People who will love me despite my funny eye. You see, I've had lots of surgeries to save it and my new family needs to help me keep it healthy. I just need some lubricating drops put in there twice a day. I'm real good about it. Promise! I'll even show you my appreciation with the loudest purr EVER. Won't you consider making me your fur-ever boy? I can't wait to meet you!
As with most SPOT cats and kittens, Treston is neutered, he's up-to-date on his vaccines, he's been dewormed, he tested negative to FELV, and he's micro chipped.
His adoption fee is $125.00.
If you're interested in adopting Treston, please fill out the cat adoption application by Clicking here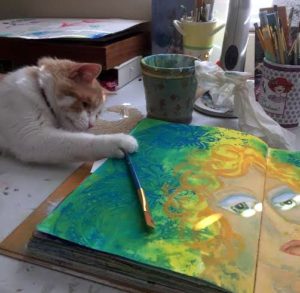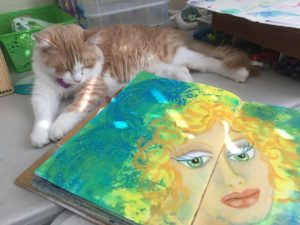 Hi Ever-buddy,
Happy almost-summer! How ya doin'? I've been enjoying the good life after recovering from my eye surgery. I can see a lot better now so I've taken up painting! Foster mom says I'm quite the artiste!
Anywho, I went to see my doctor for a check-up recently and he told me I need a little 'touch up' cryoepilation surgery. Seems I still have some fur getting into my eye and if we don't fix that I will eventually lose my vision on that side. Yikes!
My doctor is donating his time but SPOT still needs to pay for the materials and other stuff. I'm super grateful that y'all helped me get this far and I'm hoping you might be able to help me again. If so, you can donate here:

A donation for Treston!
Thank you, friends! I'll be sure to keep you updated on my progress. Meanwhile I'll be working on my painting technique!
Love,
Treston
Treston Update 4/26/17
Hey Ever-body,
It's been a long time since I updated you, and that's because I finally had my eye surgery! I've been busy recuperating in my foster home for the last several weeks where I'm getting tons of TLC. I still have another month of healing to do and then we'll know for sure if my surgery was a success. I gotta tell ya though, I'm feeling better already!
I wanna thank all my donors for helping me raise so much money to put towards fixing my funny eye. I ended up with $1,175.00 in my piggy bank, which was enough of a down payment to get my surgery done on time. I'm still supposed to raise a little more to pay off my bills, so if you wanna help you can donate right here on my blog page.
Now that my recovery is a little easier to manage I'll be sure to keep everyone posted on my progress. Watch for my posts on SPOT's Facebook page. I'll be revealing my new look soon! Thanks again for all your love and support!
Xoxo,
Treston
About Treston:
Treston had reconstructive eyelid surgery to correct his condition. This surgery ensures complete resolution and will saves his eye. SPOT is looking to our friends, family and supporters to help raise the funds. Please share his link, promote him on your social media platforms, and donate if you're able. Remember, donations are tax deductible and every dollar counts and some corporations will even match funds. As always, we thank you. We'd never be able to save so many precious lives without good people like you.