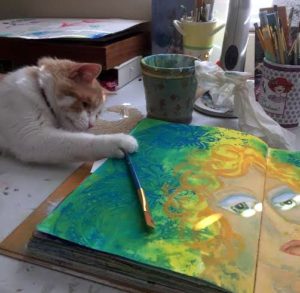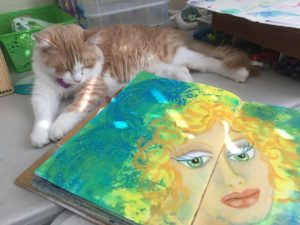 Hi Ever-buddy,
Happy almost-summer! How ya doin'? I've been enjoying the good life after recovering from my eye surgery. I can see a lot better now so I've taken up painting! Foster mom says I'm quite the artiste!
Anywho, I went to see my doctor for a check-up recently and he told me I need a little 'touch up' cryoepilation surgery. Seems I still have some fur getting into my eye and if we don't fix that I will eventually lose my vision on that side. Yikes!
My doctor is donating his time but SPOT still needs to pay for the materials and other stuff. I'm super grateful that y'all helped me get this far and I'm hoping you might be able to help me again. If so, you can donate here:

A donation for Treston!
Thank you, friends! I'll be sure to keep you updated on my progress. Meanwhile I'll be working on my painting technique!
Love,
Treston
Treston Update 4/26/17
Hey Ever-body,
It's been a long time since I updated you, and that's because I finally had my eye surgery! I've been busy recuperating in my foster home for the last several weeks where I'm getting tons of TLC. I still have another month of healing to do and then we'll know for sure if my surgery was a success. I gotta tell ya though, I'm feeling better already!
I wanna thank all my donors for helping me raise so much money to put towards fixing my funny eye. I ended up with $1,175.00 in my piggy bank, which was enough of a down payment to get my surgery done on time. I'm still supposed to raise a little more to pay off my bills, so if you wanna help you can donate right here on my blog page.
Now that my recovery is a little easier to manage I'll be sure to keep everyone posted on my progress. Watch for my posts on SPOT's Facebook page. I'll be revealing my new look soon! Thanks again for all your love and support!
Xoxo,
Treston
About Treston:
Treston had reconstructive eyelid surgery to correct his condition. This surgery ensures complete resolution and will saves his eye. SPOT is looking to our friends, family and supporters to help raise the funds. Please share his link, promote him on your social media platforms, and donate if you're able. Remember, donations are tax deductible and every dollar counts and some corporations will even match funds. As always, we thank you. We'd never be able to save so many precious lives without good people like you.