Date/Time
Thursday - Mar 30, 2017
6:00 PM - 7:30 PM
Location
83 Degrees
660 Carlsbad Village Drive
Carlsbad, CA 92008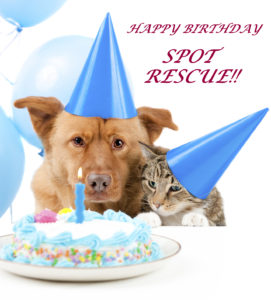 It's been SEVEN wonderful years! You're invited to celebrate!
During our short time an amazing team of volunteers has come together to save almost 3000 dogs and cats. These animals would not be alive today if it were not for SPOT.
Congratulations and thank you to all who have helped by fostering, adopting, volunteering, and donating. Together we did it and look forward to saving many more.
YOU'RE INVITED!
Please come to our 7th birthday party—and raise a glass to everyone in SPOT who had a hand in our success. We hope to see you there!