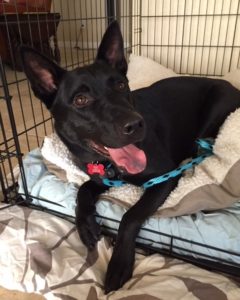 Miss Candy arrived at her new foster home where she will recuperate from her broken leg and acclimate to crate training. Stay tuned for updates!!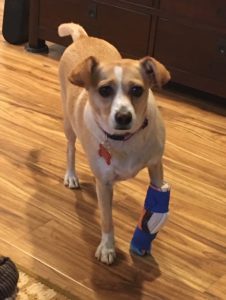 Update: Clover's Road to Recovery-
Clover had another appointment with Natalie, our rehabber, and got this nifty splint. Here is hoping it help, sweet girl ❤️ and that you will be up for adoption soon. Thank you to Natalie and Clover's amazing foster mom Leticia.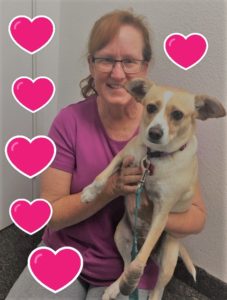 Clover's Journey Continues……
Clover just visited Dr Cheryl Ricketts-Mulvey, DC of Olde Mission
Chiropractic. Thank you Dr Cheryl for working on Clover's curved spine.
Due to all of the trauma Clover has had she is really out of alignment. We
need to work on getting and keeping her aligned. SPOT (and especially
Clover) appreciates Dr Cheryl's help immensely!!!! It is a work in
progress, step by step with this amazing circle of healers working to help
our sweet Clover!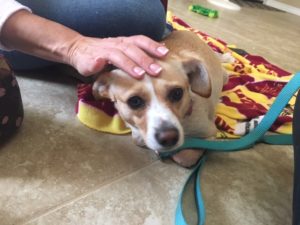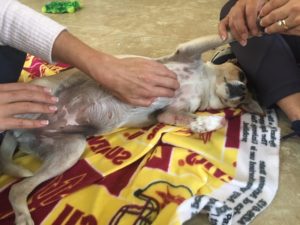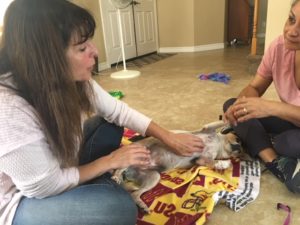 It takes a village- lucky we have a great one!
Remember Sweet Clover. She had been hit by a car and her left legs were injured (front leg nerve damage, back leg broken ankle). She had such a determination and such a sweet demeanor that the shelter could not euthanize her. They reached out to rescue and SPOT said YES!
It has been a long road for Clover. She came to SPOT in February and step by step we are trying to help her. After resting, and having her leg casted, she met with Nedra, our amazing animal friend who owns Reiki for All Creatures, www.wellnessforallcreatures.com . Nedra came to Clover's foster home and showed her wonderful foster mom how to work with Clover's acupressure points to start moving blood flow and energy so that it will move down her leg and hopefully bring some sensation back to her damaged front leg. Using massage and pressure points we hope to stimulate Clover's leg so she can avoid having to get it amputated.
Stay posted on the healing of our sweet girl!
Thank you Nedra for your help and expertise!!!
Clover was hit by a car and we are mending her. She is doing her part by resting her leg. Which is hard work!! Keep your eyes 👀 posted on her updates- and availability for adoption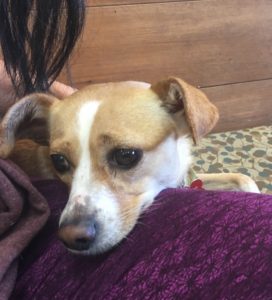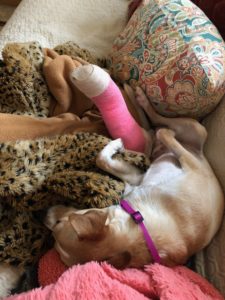 Meet Shane!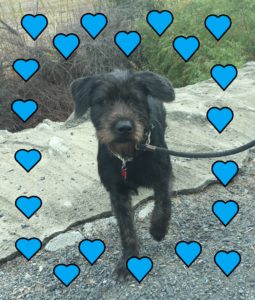 He is approx. 9 months old, a Standard Schnauzer possibly Doodle mix. He weighs 45 lbs and is a shy guy. We are giving him lots of love and socializing him and he should be ready for adoption soon, so keep your eye out for him.