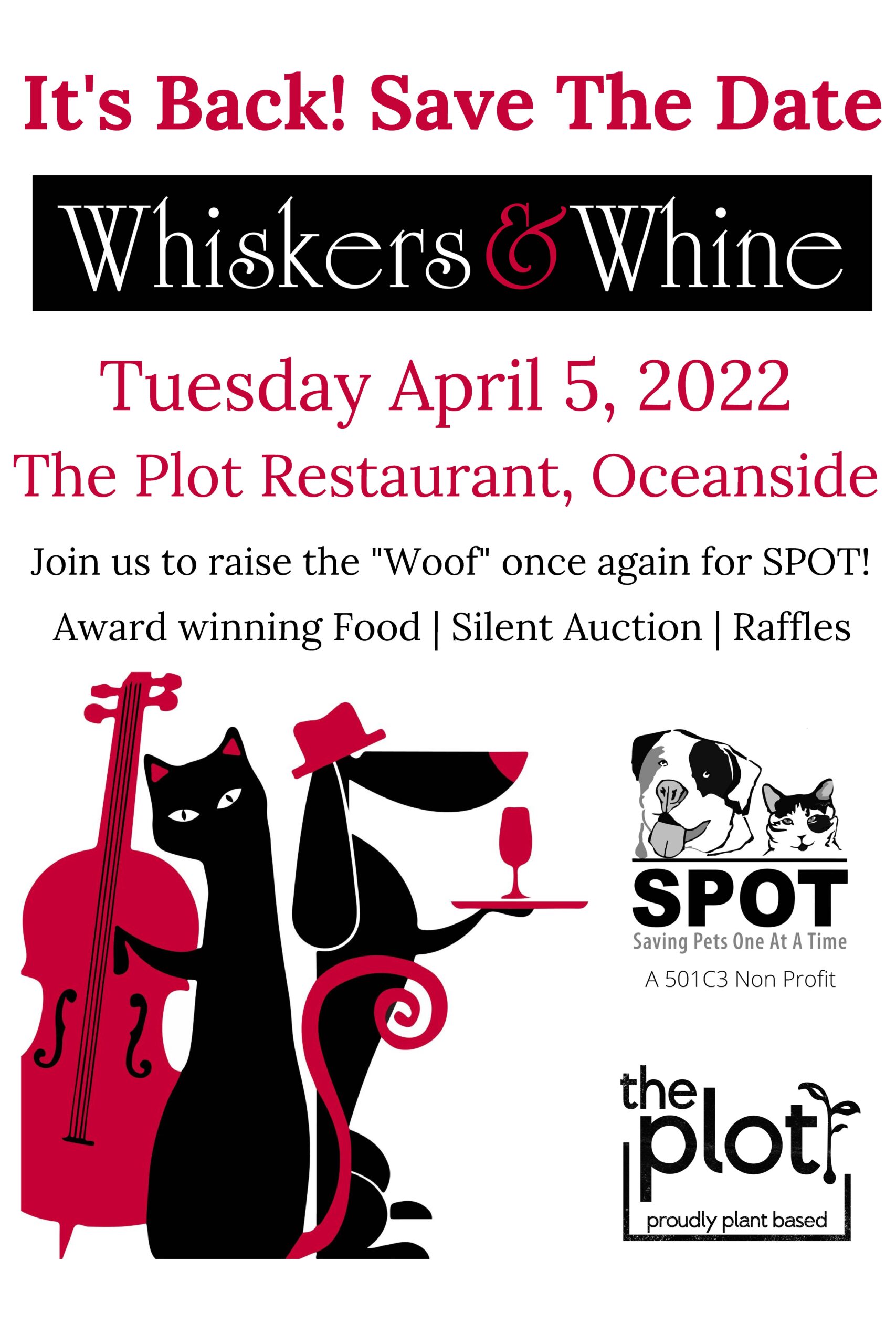 22 Jan

Whiskers & Whine | Save the Date: April 5th, 2022

We would love your help with a donation to our silent auction or raffle. Thank you.
Silent auction donation letter
WHEN? Tuesday, April 5, 2022
WHERE? The Plot Restaurant, 1733 S Coast Hwy, Oceanside, CA 92054
A few woofs from Sage Lundrigan & Charlie Gatehouse
Proud SPOT Rescues & the 4-Paws Whiskers & Whine Advisory Committee
Sage and Charlie here with some woof-breaking news! SPOT is hosting Whiskers & Whine 2022, our largest fundraiser of the year on Tuesday, April 5 at the acclaimed Plot Restaurant in Oceanside. This fun evening event will bring together animal lovers to mingle, enjoy wonderful food & drinks, win raffle prizes, and bid on incredible silent auction items – all to support the animals who desperately need our help. COVID has worsened the plight of homeless animals, so your support is needed now more than ever.
As rescue dogs ourselves, we know that if it wasn't for SPOT, we wouldn't be in the loving forever homes we both have. You can make the difference between life and death for a homeless animal! To give you an idea of costs in 2022 – $80 provides two days of boarding; $150 covers fees, basic vetting and microchipping for getting one shelter dog or cat off death row; $300 will allow us to spay or neuter one animal; and $500 is just a fraction of what it costs us for animals with medical needs.
We are begging for your help on behalf of all our four-legged friends in need! Please save the date, tell your friends and family, and plan on purchasing tickets when they go on sale February 21. In the meantime, please consider donating items or services, large or small, for the silent auction. All items are tax deductible. You will find the donation form link below. For questions or more details, email us email us at spot.whiskerswhine22@gmail.com or call 760-519-3227.
With our grateful thanks for your support
Our very best woofs, Sage & Charlie



Whiskers and Whine Donation Form