16 Jun

The "Potter" Kitties!!!!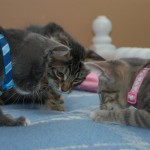 Look at Brody, Bingham, and Bridget…Now it's Neville, Sheamus, and Lily!!! They are the "Potter" Kitties!!!
You don't need to worry about little Lily, she isn't shy at all.  She may never be a lap kitty but she is brave, sweet and curious.  She tried to take Katie's toast right out of her hand this morning.  Right now she is playing on the computer desk as I'm typing this. The boys are the sweetest things ever, the will definitely be lap kitties…  They spent most of today curled up sleeping with me.  Now they are having kitty races up and down the hallway.
Thank you Lynnet and Katie for the update!!!!