Have an old car taking up space in your driveway? Donate it to SPOT!
Your contribution, in any amount, will go toward the rescue and rehabilitation of animals in our own community.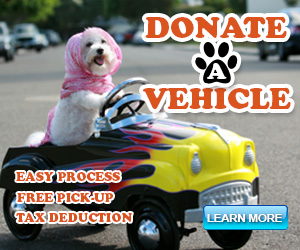 Donating Is Easy!
Donating a car is easy! And so is donating other vehicles. We accept all types of vehicles nationwide — cars, trucks, SUVs, motorcycles, ATVs, and even boats.
Click here to get started!
 or call 855-500-7433 or 855-500-RIDE to speak to a representative.
A critical component of SPOT will be humane education, and a continuing, easily-understood and widely broadcast message regarding animal population control. Presentations on these topics will be developed for all levels of schools, as well as adult groups.
To donate your used vehicle, choose the "Click here to get started" link above or call the number provided. A representative will explain the details including tax benefits and same-day service. Thank you for your support.