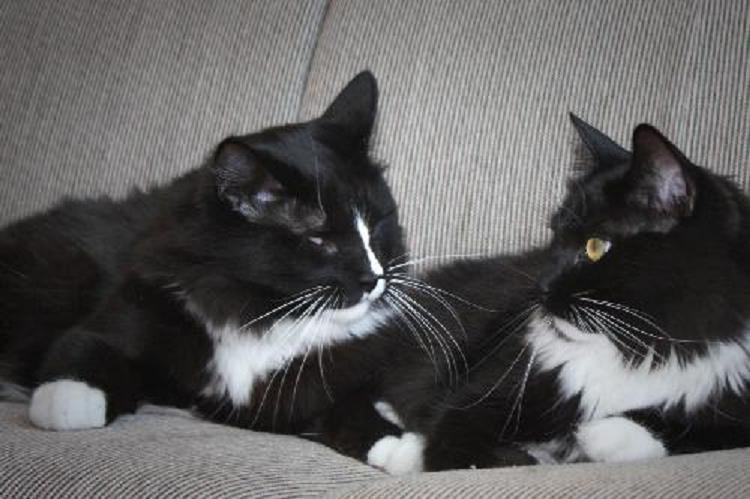 27 Nov

Home For The Holiday's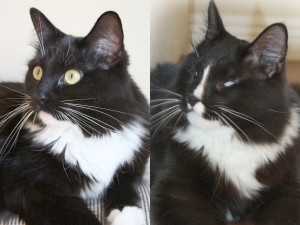 BOCELLI AND MALENA UPDATE 1/1/14:
It's official! Bocelli and Malena have a home for the holidays! They were officially adopted yesterday after spending 4 months with SPOT and this looks like the perfect home for them with new mom, Kristine! Stay tuned for updates and pics of their new home!
We want to thank foster mom, Nuria, for caring for them for the last six weeks and to everyone else who helped share and network their journey. We couldn't have done it without all of you! It is happy beginnings for these two cuties and we couldn't be more excited for their new journey! Way to go Bocelli and Malena.. you FINALLY made it!!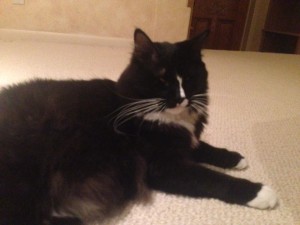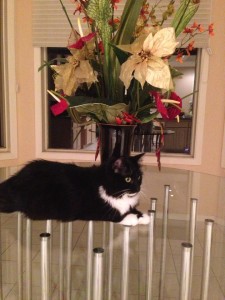 BOCELLI AND MALENA UPDATE 12/23:
Still no home for Christmas. Foster mom, Nuria, says they have adjusted very well in her home and are getting friendlier all the time with strangers.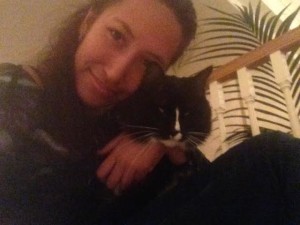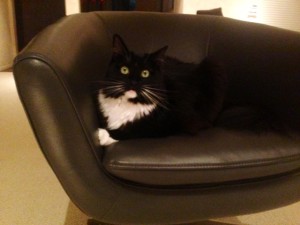 BOCELLI AND MALENA UPDATE 12/15:
Bocelli and Malena are STILL looking for their new family! Pictured is Malena getting comfortable in her new home while Bocelli cuddling with his foster mom, Nuria. They are both doing very well with her little dog, Mack. Please help share these two cuties! They deserve a home that will love them and give them everything they need to be happy! Can you help them?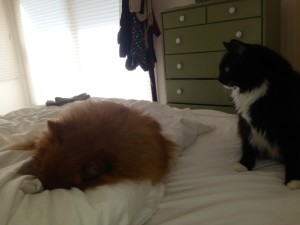 BOCELLI AND MALENA UPDATE 12/6:
Foster mom, Nuria, says "They're doing very well and have been introduced to her dog, Mack. Mack is 11 years old, loves kitties and he's the perfect dog for them to meet because he's very submissive and mellow and doesn't bark. Bocelli and Malena are good kitties and they're not aggressive at all and they all sleep together in their foster mom's bedroom peacefully. Because of Bocelli's blindness, he's scared when Mack is running around and will hide, but as soon as Mack settles down, Bocelli is out again."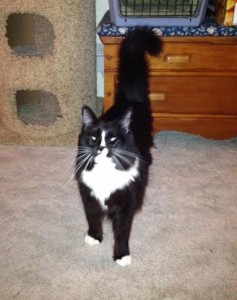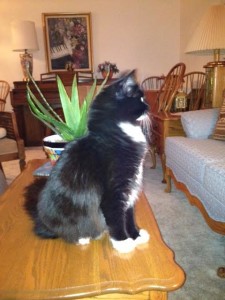 BOCELLI AND MALENA UPDATE 11/30:
Bocelli and Malena are doing much better now.. but still need our help in finding a new family for the holiday's.They are currently in a loving foster home for this weekend with one of SPOT's leading cat rescuers, Jan.
Foster mom Jan told us this today.."They are doing much better and Malena is such a love bug. She wants to be on your lap getting loves all the time. She will position herself with her paws on my chest, looking right into my face, all the while purring, kneading, and nudging. Bocelli is doing very well, too. He has been on the top of his cat tree several times and gets around like hes not blind at all. I haven't seen him bump into anything. It's amazing how he's able to navigate without sight. Their former adopter had a routine of ringing a bell in the afternoon every day, to give them freeze dried salmon treats, and he said they would come running from wherever they were to get some. They are doing that for me, now, too! So cute. They love these treats!"
Take Bocelli and Malena home for the holiday's!
MEET BOCELLI AND MALENA:
Bocelli and his three litter mates were pulled from a local shelter as little kittens, raised in a loving foster home and all have been adopted. One of the kittens, Bocelli, was completely blind and we adopted him out with one of his sisters, Malena to an older gentleman. The adopter can no longer care for them and we are trying to find a wonderful new home for both of them together. We estimate their birthday to be March 21, 2012, so they are a little older than 1 1/2 years. Because of Bocelli's blindness we felt it important that he be adopted with one of his siblings, Malena, to help him get around. They love each other and are a bonded pair! Bocelli is very friendly, playful, and a big "love bug"! His sister is a little shy but once she gets to know you, she's very loving, too. You would never know Bocelli is blind the way he runs through the house after his sister and climbs his cat tree, and his potty habits are perfect. They LOVE to have their backs and tummies scratched and will sit on your lap endlessly. They are beautiful domestic medium hair tuxedo kitties and they're very healthy, playful, and affectionate. They've never been around children, other cats or dogs. so we are looking for a quiet organized home, without small children, where they will get the love and attention they're used to. These are wonderful kitties! If you're interested in adopting Bocelli & Malena, please fill out the cat adoption application by clicking:
Take Bocelli and Malena home for the holiday's!