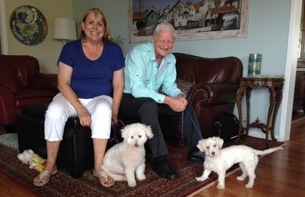 05 Jul

Maya is ADOPTED!!

Maya was adopted today by Catherine and Richard. Her new name is Riley Bear and she joins a dog brother, Topper, who was adopted from SPOT 2 yrs ago.
The two dogs, who had met a few times before at Maya's foster home, walked together outside and then started to play a little in the house, but mainly were just checking each other out.
As you see in the photo, Topper graciously allowed Maya to settle into
his dog bed surrounded by his toys and proceed to chew on his bone. Mr. Topper, you are a true Gentleman! We are so happy for Maya and can' wait to hear updates on her new life! Way to go Maya!!