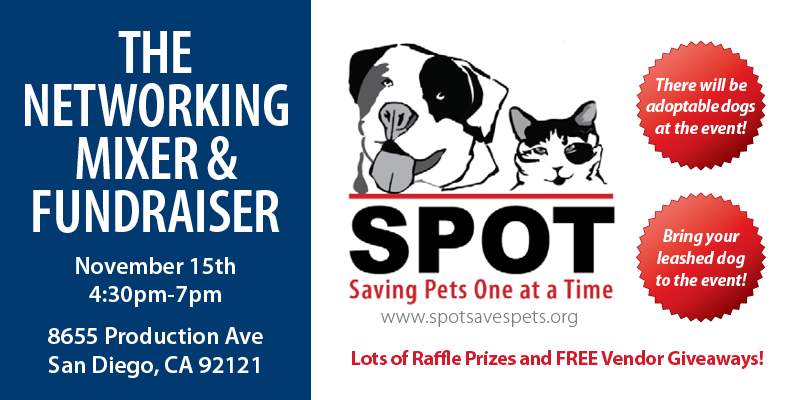 17 Oct

Networking Mixer and Fundraiser for SPOT!!

Be a part of this amazing business networking mixer AND fundraiser in honor of Spot Rescue, Saving Pets One at a Time, held at 32 NORTH BREWING in Miramar on Wednesday November 15th from 4:30pm-7pm.

There will be a food truck (Fork Yeah! Food Truck), vendor booths, local businesses, raffle prizes, networkers from Miramar/Sorrento Valley & surrounding areas, adoptable dogs, and beer from 32 North Brewing. This event is dog-friendly so you are welcome to bring your buddy. Also visit vendor booths for free giveaways, swag & coupons!

Entry to this event will be free, however we encourage you to purchase raffle tickets for $1 each (all sales go to SPOT Rescue) and enter in to win one of our many available raffle prizes – you get to choose what raffle to enter into!

EARLY BIRD RAFFLE TICKETS AVAILABLE HERE ON EVENTBRITE FOR A DISCOUNT! Go under tickets to choose your quantity. You may also purchase at the event for $1 each via cash or credit card. Click here to purchase tickets

Please contact us for more information and to receive full PDF flyer: [email protected]

We are still looking for a few additional raffle prizes, along with a couple extra 6′ tables to borrow, and 1-2 more volunteers, we appreciate any help!

PLEASE EMAIL ME IF YOU ARE A LOCAL BUSINESS WITH A RAFFLE PRIZE TO DONATE (VALUED AT LEAST $25 OR MORE).100% of raffle ticket sales go to SPOT Rescue! [email protected]

We hope to see you there!