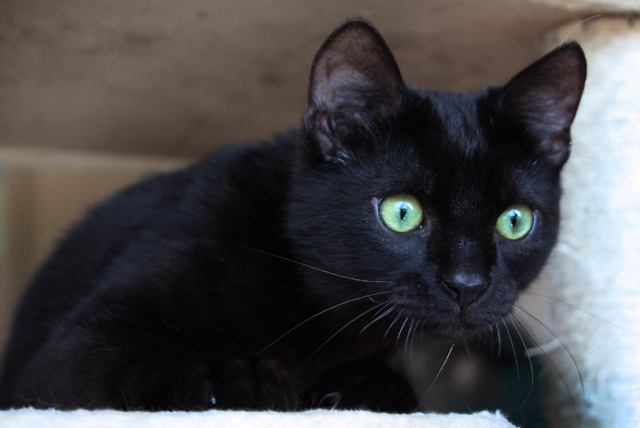 16 Mar

Panther
A New Journey Begins..

Panther is adopted!! He finally found his furrever family with Paul, Diana and their 16 year old son Kyle and will live in Carlsbad. Panther will even have two cat buddies to play with!!
Diana sent us an update saying Kyle and Panther slept together last night… Kyle is lucky Panther loves to cuddle!
We want to give big "Thank You" to Diana, Paul and Kyle for giving our handsome Panther a wonderful home. We are so excited for his future and are looking forward to updates on him! Way to go Panther.. you made it!!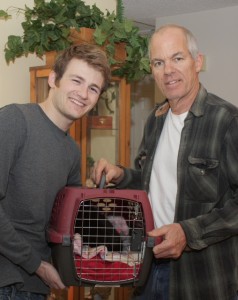 Meet Panther!

Panther is a six months old, male black kitten.
His shelter file said: GO SLOW – FEARFUL
Panther was turned into the shelter in a feral cat trap. The notes say he was very fearful, crying with ears back and shaking. When Lori with SPOT took him out of his cage he started purring in her arms and she knew he can be saved. Panther was placed in a loving SPOT foster home right away. His foster Karen thinks Panther at one time was a pet and may have been abandoned and living on the streets. How could someone abandon such a sweet loving creature?
The first couple of weeks Panther would run from room to room hiding anywhere he could. At meal time Karen would offer Panther pieces of chicken but he was too scared to come out of hiding and eat out of her hand. Slowly Panther is starting to relax and now enjoys playing with toys and the other kitties in the house, at meal times he is in the kitchen and has a lot to say. Panther sometimes sleeps with his foster mom and enjoys snuggling and lots of love.
Panther is making progress every day and his bright and funny personality is coming out. If he wants attention he will rub up against your leg and look up at you with his handsome big green eyes and his tail will curl at the top.
Karen noticed the other day, when I got home from work I saw Panther running to the door to greet me, it was the best feeling knowing he felt safe enough to do that. Panther has come so far in overcoming his fear, when he first got here there was panic and fear in his eyes and slowly that is being replaced with relaxed or happy and playful looking eyes.
Panther needs a new family to love. Maybe yours? Click here for Panther's profile with adoption application!