24 Apr

SOCIAL SCENE: Outback hits the 'SPOT' with fundraiser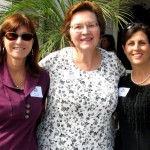 Saving Pets One at a Time, better known as SPOT, held its annual Outback Steakhouse luncheon Feb. 11 at the Oceanside location.  SPOT saves homeless, treatable, trainable, manageable and misdiagnosed dogs and cats in North County that are at risk for euthanasia. The goal is to find loving homes for each animal.  To date, SPOT has placed 524 pets. Although it takes all pets, it has a particular interest in special-needs animals like Parker —- a week-old puppy found in a park in a paper bag. Parker is now grown and healthy and living in his forever home.
Outback proprietor Janice Koehler opened her doors to the group and provided the food and nonalcoholic beverages. Her staff worked for tips only. SPOT supporters bought tickets to offer members of the military and their families.  Information on how much money was raised was not available.
 Click here to see more.. http://www.nctimes.com/lifestyles/relationships-and-special-occasions/social-scene-outback-hits-the-spot-with-fundraiser/article_50c8f0ac-b107-5a6f-9dce-8ddfbe16976e.html