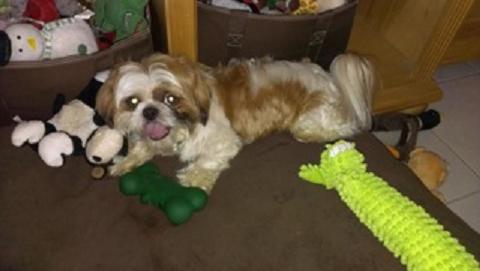 23 Jan

Yoshi has a new home!!

Check our Yoshi.. ADOPTED!! This past weekend, Yoshi, our Shih Tzu that was relinquished to Fire Mountain Veterinary Hospital due to having bladder stones found his forever family!! And what a Jackpot! He has 2 canine siblings. Frisky, a Bichon Poodle mix and Sam, a Rat Terrier. And a few feline friends as well. His new mom and dad, Marianne and Joe were very excited to meet him and welcome him into their home. Once he found the toy boxes he was in complete dog heaven. He even jumped into the toy box to find that perfect squeeky toy at the bottom! What a silly guy.. He is in the perfect home! We tried to get pictures of him with Marianne but he was too excited and eager to get back to the toys so this is the best we could get. We contacted Marianne and Joe the next morning to see how he did over night and they said, He did great and they are already in love". They also wanted to say thank you to SPOT for making the adoption process smooth and easy..
A huge thanks to Kedda for taking Yoshi in your home for fostering and finding him his perfect family! It is happy beginnings for Yoshi and can finally say he made it!! Way to go!!