16 Oct

ABBY in the North County Times!!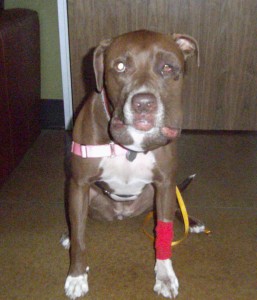 A rescued pit bull mix that was bitten by a rattlesnake in Escondido earlier this month was almost completely recovered Monday, an animal rescue founder said.
Abby, a 6-year-old dog, was left with swollen bulge on the side of her face where the venomous reptile bit her. She underwent life-saving medical treatment that cost the nonprofit SPOT $2,828, said SPOT co-founder Elaine Godzak.
After Abby's ordeal received media attention, members of the public chipped in more than $1,700 toward Abby's medical bills, Godzak said Monday.
"We got well over half of the cost donated by very generous members of the public," she said. "The swelling is almost completely gone. You'd almost never know anything had happened."
Abby was rescued from a local animal shelter after her previous owner became homeless, Godzak said.
Though Abby seems to have overcome the July 11 snake bite, she still doesn't have a permanent home.
Pit bulls are unpopular for adoption because of their breed's violent reputation. And Abby, at 6, is middle-aged in dog years.
Godzak said that's a shame, because Abby is a gentle and well-behaved pet.
"She's just about everything you could want in a companion," Godzak said. "She's in a great foster home until the right adoptive family comes along."
And, Godzak said, the fact that she's not a puppy just means her next owners won't come home to a chewed-up dining room table.
Anyone interested in adopting Abby can go to www.spotsavespets.org, click on "Adopt Me!" and find Abby at the top of the alphabetical list.
Call staff writer Brandon Lowrey at 760-740-3517 or follow him on Twitter @NCTLowrey.​
Click here to see the article http://www.nctimes.com/news/local/escondido/escondido-pit-bull-recovers-from-rattlesnake-bite-still-without-home/article_6330f477-4099-5132-b5d7-6b6f66e99873.html