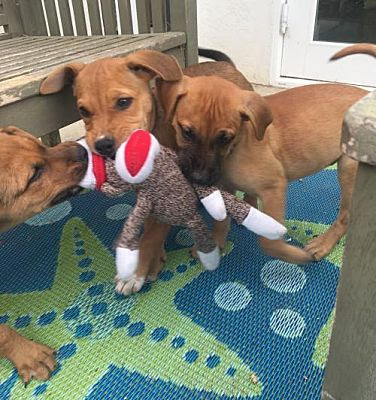 12 Aug

AN URGENT PLEA FOR MEDICAL HELP!

SPOT takes the animals that no one else wants or will take. A lot of these are medical cases. We have several medical cases right now that need your help. Will you help us with their recovery?
Super Hero Pups Need Super-Sized Help!
These sweet puppies (top pic) just came to SPOT. They were rescued from a horrible environment where they were not thriving. One of their littermates had already died. SPOT didn't want another to die, so we agreed to take these sweet babies. We got them and they were doing great! Sadly, one of the puppies just became sick and was tested for Parvo. We are doing everything medically for her and will continue to do so. We are hoping for a positive outcome. Parvo is life threatening and the treatment is very expensive. It is also very contagious so we may have up to 5 pups that may have contracted the disease and will need treatment.
Meet Clover: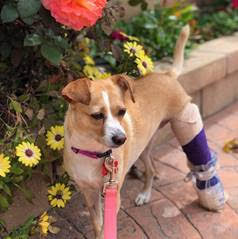 Poor beautiful Clover (pic right) had been hit by a car and brought in to the shelter by a good Samaritan. Both of her left legs were injured (front leg nerve damage, back leg broken ankle). However, this little girl had such a determination and such a sweet demeanor that the shelter could not bear to euthanize her. They reached out to rescue for this special case. Everyone else said no, SPOT said YES!
It was first suggested by our vet to let her rest and we would see if she could heal on her own. So we rested. It was crazy, Clover looked like an ordinary dog but if you looked closely she was only walking on 2 legs- her front and back leg on just the right side and she managed beautifully. After a few weeks, it was decided she needed to have her back leg casted. However, her front leg would not repair itself but as long as she did not drag it and cause wounds to her leg there was no reason to remove her front leg. She seemed to use her front leg to stabilize herself.
After several months of rest with her back leg casted, her fractured ankle is mended and she is putting weight on it- yay!
However her balance has shifted and now she is dragging her front leg and scrapping it up. So now it is time to see if we can help her with her front leg to regain enough sensation to hold her leg up (she has feeling all the way from her shoulder to just past her elbow- now we are working on extending that range even lower).
Her "team" worked diligently on her. We enlisted the help of Natalie, from Total Dog- experienced rehabber. Natalie met with Clover and the foster to assess her leg and show techniques to see if we can expand her nerve endings to make it so that Clover could keep her leg. She then suggested we contact our animal friend Nedra from Reikki for All Creatures. Nedra, showed us how to work with Clover's acupressure points to start working blood flow and energy so that it will move down her leg and hopefully bring some sensation back to her damaged front leg. Dr Cheryl Ricketts Mulvey, DO, adjusted Clover's C shaped spine and gave her a much needed tune up and straightening everywhere! And Erica Tibbetts, Energy Healer Intuitive , helped Clover with some energy healing and holistic herbs. We cannot thank this "Team" enough. Their dedication and services they donated to Clover are invaluable!!
Sadly, even after all the love and amazing care her amazing foster mom and team gave her, Clover's front leg got infected and would keep doing so. In the end all we want is for Clover to be healthy, feel good and find a fabulous family who will love her. So in order for Clover to forward in life, SPOT needs to schedule a surgery to remove her front leg.
Meet Candy: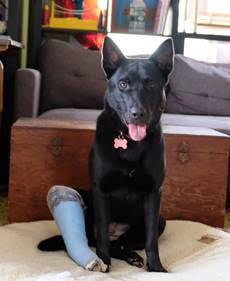 Candy was dumped in the desert with a mangled and broken back leg. We are not sure what happened to her, possibly a snare or leg trap. Poor girl sat and sat and sat in the shelter. The shelters kept reaching out to rescues but no one was willing to take her and pay for the medical that Candy needed. We couldn't let her die so SPOT once again said yes! SPOT pulled Candy and the vet felt she had a chance that her leg would mend once casted. She was a trooper and dealt with her cast changes weekly and limited activity. Unfortunately, after 8 weeks her leg has not healed as we hoped. Candy is meeting with the specialist about surgery to put in plates in order to save her leg. These surgeries are expensive. She is meeting with the specialist this week. We could not help Clover keep her leg but we have to try to help Candy if it is saveable! Please help us raise the money needed to help Candy keep and mend her leg. Like Clover, once healed she will be looking for her loving home.
SPOT has set up a fundraiser to help with these puppies and the other medical cases we have. Every dollar donated goes directly to their medical care. To donate today, click on "Donate" link below.
We appreciate your support and will update you all with their progress!