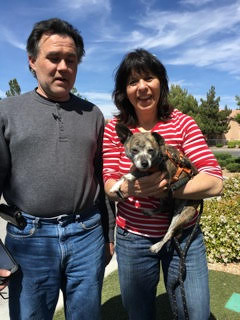 06 Mar

Finnegan found a loving family!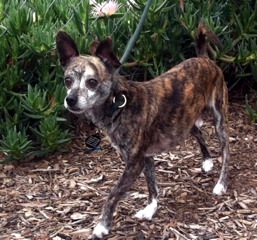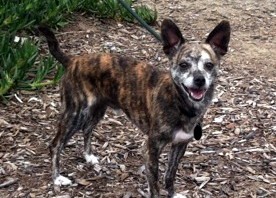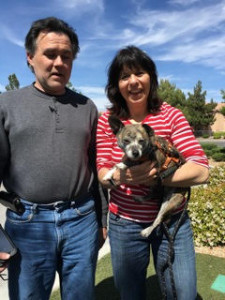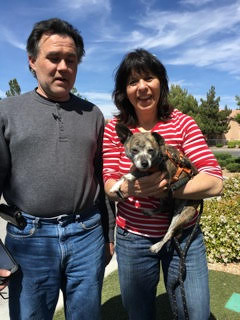 A NEW JOURNEY BEGINS!!
It took 1 yr., 3 foster homes, one trainer, and 710 miles for our awesome boy, Finnegan, to find his forever home in Utah! Here he is with his new parents, Leigh Ann and Randy.
Finnegan overcame a history of abuse to become a super sweet dog who is smart and eager to please. He will share a home with 5 other dogs, 2 cats, and some chickens.
A special thank you to long time foster, Olga and to short term fosters, Dena, and Alisa. Also, a shout out to our wonderful trainer, Randy Davis, who taught Finn how to focus his attention and to relax. You made it, Finnegan. It was worth the wait! Congratulations!!!
FINNEGAN's Story…
AVAILABLE FOR ADOPTION!
Finnegan is ready to "begin again". He has had some traumatic events in his life, but he has put that all behind him and is ready to focus on finding his perfect home.
.
Finnegan is a 4-5 yr. old Chihuahua/Italian Greyhound Mix. He weighs about 9.5 lbs. (although he needs to put on a little more weight.) He loves to play with his foster mom's dogs, and he can go from zero to about 50 miles/hr. in a few seconds when he hears a call to action. But, his favorite thing is sitting in someone's lap or beside them on the couch getting petted.
He has never had the benefit of training, but he is quite smart and is already learning staying in place, sit, stay, etc. He would probably be best with children over 8 yrs. due to his excitability. Do you have room in your home and heart for this lovable pup? He is ready to bring a lot of joy to his new family. Adoption fee: $175. Fee includes his neuter, current vaccinations and microchip. For his full profile with an adoption application, Click here