17 Mar

Harmony is ADOPTED!!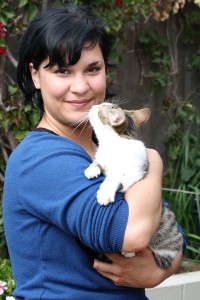 Harmony is ADOPTED!! Rebecca has adopted Harmony and given her a forever  home!!
Rebecca lost her cat, Fabio in Feb. and her other two year  old cat Skyler (Rag doll) has been missing his play mate.Rebecca saw Harmony's story on the  SPOT website and has been following her healing progress.As soon as Harmony became available for  adoption she contacted SPOT.
It was love at first sight and Harmony felt right at home  in Rebecca's arms.Harmony now has  a big brother to play with and Rebecca's father lives with her and loves cats  and is so excited to have a new member to their family.  Harmony is busy tonight discovering the Three Tier Cat  Tree, the Super Size Kitty Condo and a bunch of new toys and getting to know her  new family. Everyone at SPOT "thanks" you, Rebecca, for giving Harmony a loving home. It is happy beginnings for you Harmony..We are so proud of you…you made it!!!