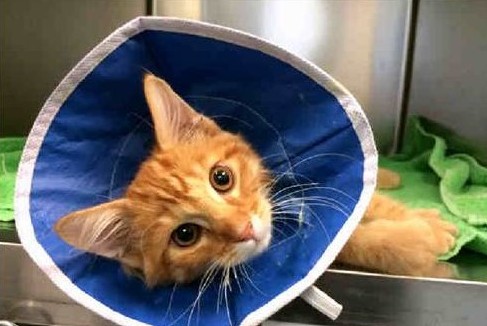 02 Nov

Persimmone and her Holiday Journey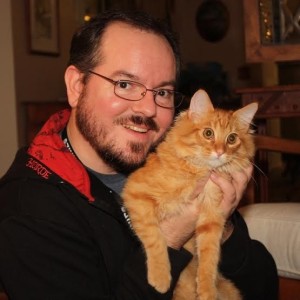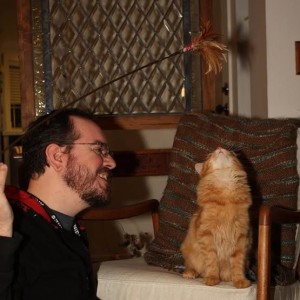 PERSIMMONE UPDATE 12/21/14.. ADOPTED!!
SPOT's 1000th Rescue cat has been adopted and will be in his forever home for the holidays!
Persimmone's leg has healed and is now strong and healthy, living in a loving forever home. Rob, his new dad, has been waiting for the good news and officially adopted him this weekend! Rob lives in Ramona with Shari and her cat Cleo, a seven year old female cat who has needed a playmate for a long time.
Rob is looking forward to many happy years with his new cuddle buddy, Persimmone and we can't wait to hear updates on his new life!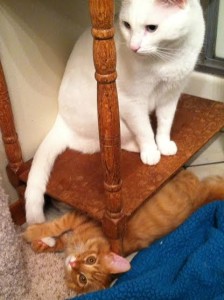 PERSIMMONE UPDATE 12/11/14!
This morning, Persimmone is getting some much needed play time with his foster kitty and friend, Casper. He is still on cage rest and healing nicely.
[donation-can goal_id='help-persimmon' style_id='default' show_progress=false show_description=true show_donations=false show_title=true title="]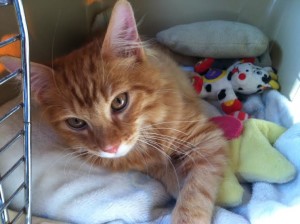 PERSIMMONE UPDATE 11/23/14!
Thank you Gordon M and Cali D for your generous contribution towards Persimmone's care!
Persimmone went to the Animal Hospital for a check up this morning. The vet left his leg cast free. The cast wasn't helping with the type of fracture Persimmone has. Now it's up to the SPOT foster to make sure he doesn't jump and run and put stress on the leg.. What a challenge!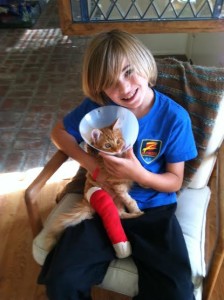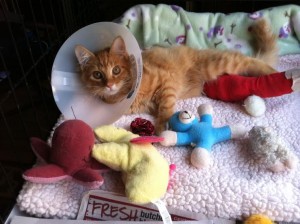 PERSIMMONE UPDATE 11/17/14!
Paul Ray is learning about fostering! He helped picked up Persimmone from the vet on Sat. Paul loves animals and is learning about animal rescue with SPOT. Persimone got his third cast put on. He is ready for his cast to come off, but the doctors aren't quite yet…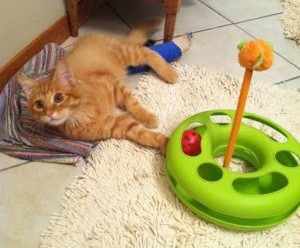 PERSIMMONE UPDATE 11/14/14!
Our lion, Persimmone, is playing more and now is wearing a larger cone when he is in the kennel.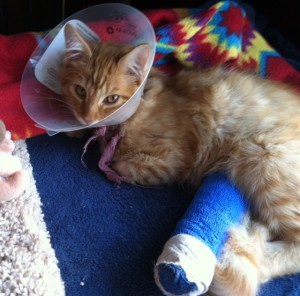 PERSIMMONE UPDATE 11/12/14!
Foster mom, Karen, just updated us with Persimmone's recovery.. "Persimone is feeling better, he goes into the bathroom with me to walk around and play twice a day. He is a clever guy getting to his cast, we are back to the cone for now. As u can see he is thrilled!!"
[donation-can goal_id='help-persimmon' style_id='default' show_progress=false show_description=true show_donations=false show_title=true title="]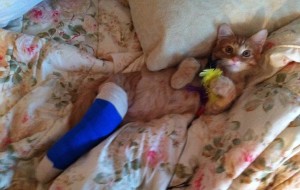 PERSIMMONE UPDATE 11/7/14:
"Do you like my new cast I got today?"
SPOT would like to thank Juliana J. for your generous donation for Persimmone's care. Donate today and help SPOT with his medical care!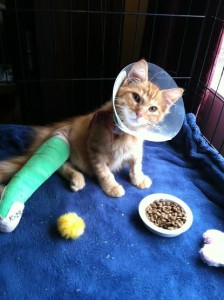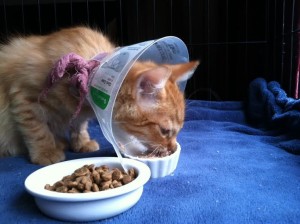 PERSIMMONE UPDATE 11/3/14:
SPOT would like to thank Tom O, Wendy G, and Frances R for your generous donations for Persimmone's care.
First night in his foster's home Persimmone slept peacefully and had a restful night. This morning he was very hungry!!
Persimmone is four month old boy that came into the Bonita shelter on late October 26th with a bleeding injury. He had a compound fracture to his femur and he was in a lot of pain. They reached out to rescues and SPOT was the only one that responded. They moved fast getting him to Carlsbad County Shelter and then was immediately taken to Surfside Animal Hospital. He had surgery the next day..
.
They had to remove some bone fragments, put pin through the femur and wire a couple of areas as well as flush it out because of signs of infection. He was released the next day and is on cage rest with our special needs foster, Karen.
Persimmone is a very special kitty and SPOT is very thankful to have rescued him. Unfortunately, Persimmone's medical bills due to his treatment and care are very big.
SPOT needs your help!
We are fundraising to help with his care and would appreciate any help you can offer.
If you are able to help his his medical costs, click on the "yellow" donation button below and make a donation today.
We will update you frequently on Persimmon's progress as he gets better.
We appreciate your support!!