16 Jun

Look at Khaleesi aka Tiffany!!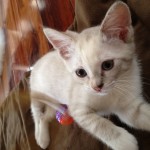 Just wanted to let you know that Tiffany (we are calling her Khaleesi, Khali for short!) is doing great! Within a 1/2 hour of coming home, she already had a run of the house. She is so sweet and loving but also so playful and funny. Thank you again for everything!!
Thank you Saya for the update!!!