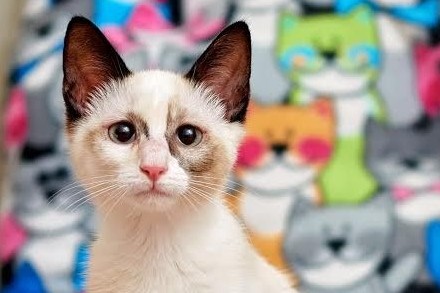 03 Aug

Matrix needs a new, loving family!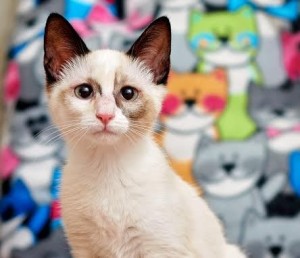 Matrix's Story…
Matrix is a beautiful blue-eyed Snowshoe/Siamese mix girl with the most adorable markings (she even has an eyepatch)! She is very active and flits around the house like a curious little bird, looking for lost toys and dust to chase. Matrix was very timid when she first arrived at her foster home and hid from everyone for much of the first few days, so imagine her foster mom's surprise when she was awakened in the middle of the night by purring in her ear- This shy little kitty had decided to make herself a nice nest in her foster mom's hair for the night! We soon discovered that Matrix loves to be petted and will purr and head butt your hand for more, but she is never underfoot, preferring to watch you from a short distance away until you sit down or lay in bed. Matrix is very quiet for the most part, but makes the funniest noises when playing with her foster brother, Infinity. She very much enjoys the company of other cats, so it would be wonderful for her to have a kitty friend to grow up with in her new home. Because of her initial shyness, we think Matrix would do well in a home with older children or adults who understand how to build up her trust and respect her boundaries. She's going to be a beautiful kitty when she grows up and will make someone a wonderful feline companion.
As with most SPOT cats and kittens, Matrix is spayed, she's up-to-date on her vaccines, she's been dewormed,  she tested negative for FELV, and she's micro chipped.
Her adoption fee is $125.00.
If you're interested in adopting Matrix, please fill out the cat adoption application by clicking here
To follow updates on SPOT kittens finding their 'fur'ever family, LIKE us on Facebook: https://facebook.com/spotsavespets/